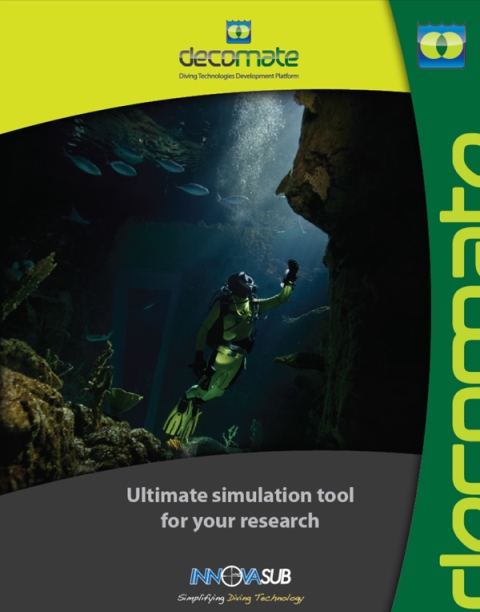 DecoMate 1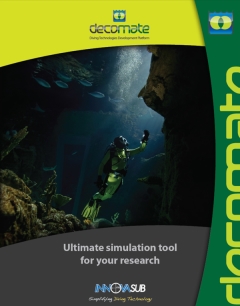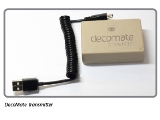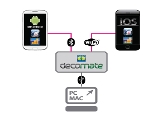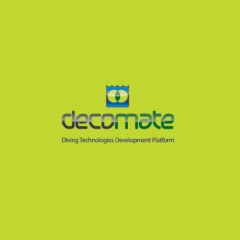 DecoMate
The INNOVASUB DecoMate is an application that enables you to create virtual dives on your computer and send the data to a PC or a mobile device with iOS (iPhone/iPod etc.) or Android operating system to test decompression algorithms.
The virtual dives created by the DecoMate will provide the required dive data for your decompression models without the need to go underwater, saving time and money.
The INNOVASUB DecoMate consists of
DecoMate App Runs on your computer (Windows, Linux and MAC OSX)
DecoMate Transmitter External device which connects to your computer via USB
DecoMate App
DecoMate lets you simulate a dive on your computer with DecoMate App and sends the data to the DecoBuilder* or any other decompression management application with the DecoMate Transmitter.
DecoMate App generates pressure data corresponding to the depth or ascent rate set. It makes it very easy to generate a real time dive by setting only the ascent rate. The pressure precision is constant to 0.01 mbar and the frame rate is up to 100 frames per second.
DecoMate Transmitter
Transmitter available in Bluetooth and Wi-Fi versions. Connects to your computer via USB and sends data to your iOS (Wi-Fi) or Android (Bluetooth) device running the DecoBuilder app.
The DecoMate Transmitter can also send dive simulation data to the DepthMonitor app for DivePhone *
* INNOVASUB DecoBuilder is an application that runs on iOs and Android devices which helps develop and test custom decompression algorithms. See DecoBuilder technical brochure for further details.
** INNOVASUB DivePhone consists of a waterproof case, a pressure sensor module and the DepthMonitor app to turn your mobile device into a highly sophisticated dive computer.
Simulates pressure, depth, ascent rate, temperature & battery voltage.
Compatible: Windows XP, Windows 7 and Windows 8 (32-bit & 64-bit), Linux and MAC OSX.
Imperial and Metric Units.
Frame rate: 0.1 - 100 Hz.
DecoMate Transmitter: Bluetooth or Wi-Fi Protocols.
Order References & Options
Reference & Product
DM-DROID: DecoMate App,DecoMate Bluetooth Transmitter for Connection with DecoBuilder and DepthMonitor on Android
DM-IOS: DecoMate App, DecoMate Wi-Fi Transmitter for Connection with DecoBuilder and DepthMonitor on iOS